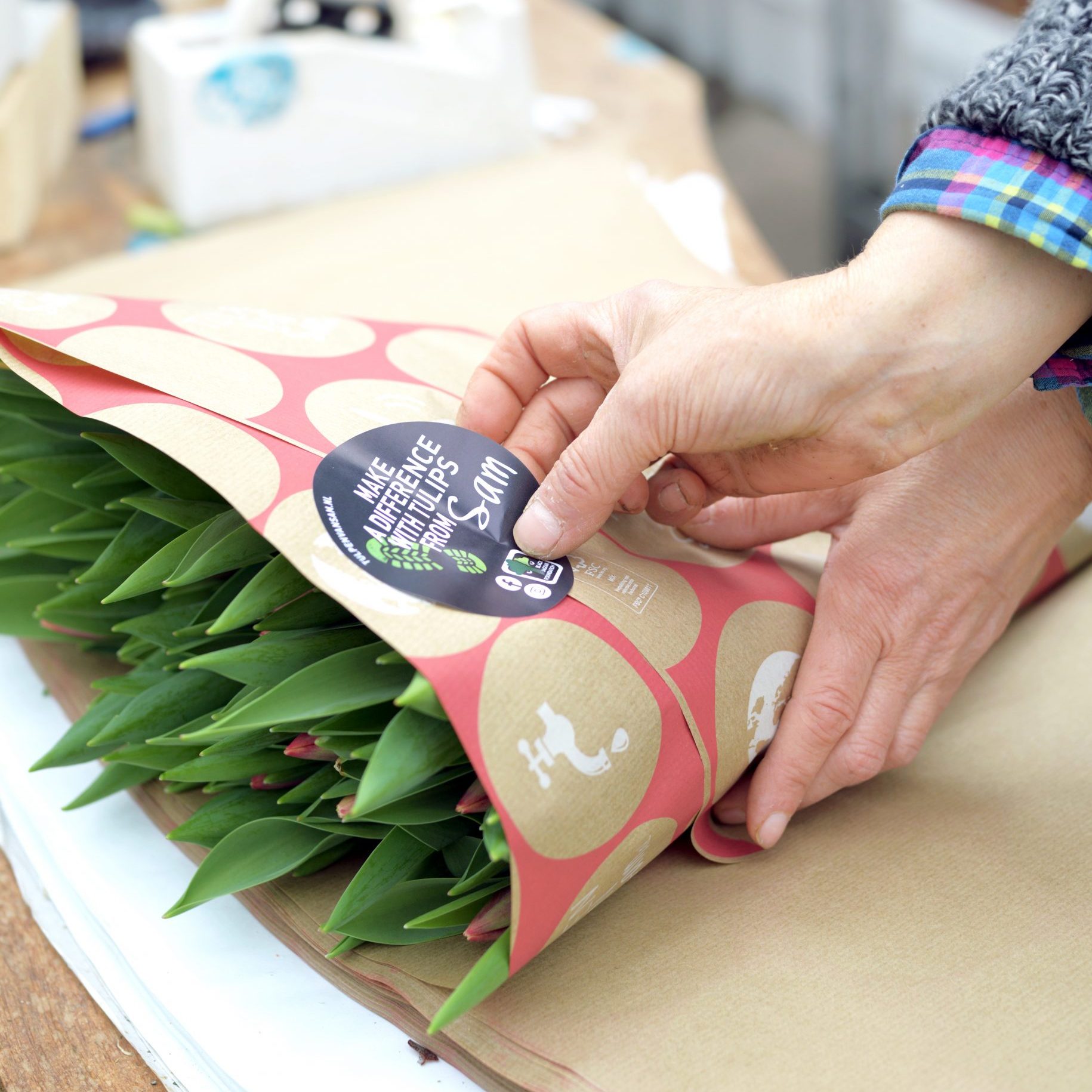 SAM'S MISSION
Sam believes in a healthy green environment for people and animals. He is working hard to achieve the biggest possible positive impact on things that really matter. His business operation and the production of fabulous climate-neutral tulips are a prime example and the means of sharing this message. Sam is a bit different.
You too can make the difference in your own way. Big or very small – it doesn't matter. Sam is keen to inspire you and invites you to contribute to a better environment for everyone in your own way.
Tip: Hover over the icons to learn more
Rose-tinted glasses? No – it's the LED lighting in Sam's newest greenhouse! The tulips grow better in this pink light. The tulips are grown hydroponically on two layers. In the winter months until early spring some 17 million tulips are forced. The modern greenhouse is heated entirely without the use of fossil fuels. An advanced cultivation process and technological gadgets are used to closely monitor every tulip, from bulb to flower. The digital planning system indicates when each variety is ripe for picking at the right time. Despite the technological aids, harvesting still needs to be done by hand and the final check by the tulip toppers (Sam's passionate employees) is still always essential. They are the ones who harvest the tulips fresh every day by hand and pack them beautifully, especially for you.
Naturally Tulpen van Sam has been awarded the certification from MPS A+ & Planet Proof, which means the nursery achieves the highest score in terms of alternative pest control and the smart use of energy, fertiliser and water. Tulips from Sam are also free of neonicotinoids. In that way Sam is not just thinking about the flowers, but also the bees and the biodiversity around his nursery.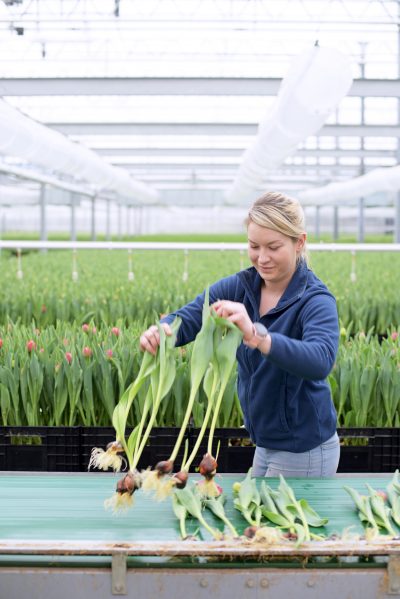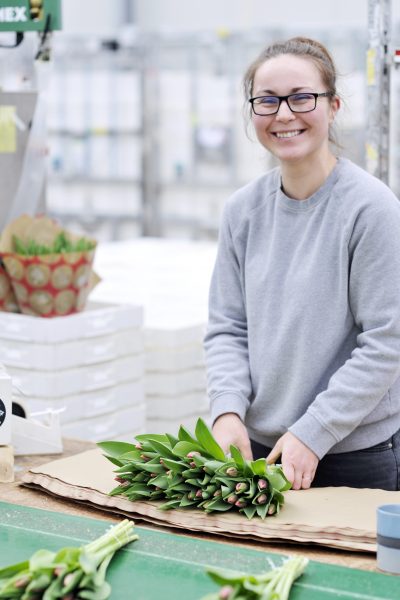 Ultimately a professional eye remains crucial
STEPS TOWARDS CLIMATE-NEUTRAL PRODUCTION
Knowledge is power. Sam continuously measures the amount of greenhouse gases (CO2) released during the production of his tulips. The smaller the carbon emission, the better you are being for the climate. By measuring this he discovers where the production process – from bulb to tulip – can be improved.
Sam constantly adapts and manages his production process. The use of a smart watering system, solar panels and heat pumps has already considerably reduce the carbon footprint.
This season Sam is planting 2 soccer fields of Amazone rainforest

After making every effort possible, Sam compensates the last bit of consumption damage by planting trees in the Amazon rainforest. In that way he truly is contributing to a greener future.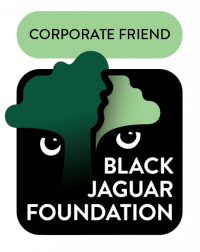 Click here for more information. If you buy a pack of tulips from Sam, you are indirectly supporting the planting of trees; in that way you too are making a difference!

DOING THINGS DIFFERENTLY TOGETHER
Raw materials and energy are used for virtually everything we produce and consume – sometimes nearby, often far away. Sam dreams of a world where his ecological footprint is a small as possible or is offset for a better life. By growing climate-neutral tulips, Sam wants to set an example to other businesses and inspire them to also looked critically at their impact on the environment, but particularly at their options for doing things differently.
Sam says: "I want to show that you can serve as a role model with a professional business operation. For me, my tulips are an excellent way to make consumers aware of the climate crisis. This is a major issue and we are already experiencing negative consequences. I would like to do my bit so that I can say later that I did everything I could to address it."

Include tulips from Sam in your range, and let your flower display shine. We are happy to support you with your sales.